Interface Principles
Suppliers are important members of our Extended Lean Enterprise. Everyone benefits from strong and collaborative working relationships.
Air International recognizes that mutually-beneficial and collaborative relationships create value for all stakeholders - Customers, Suppliers, Employees and Shareholders.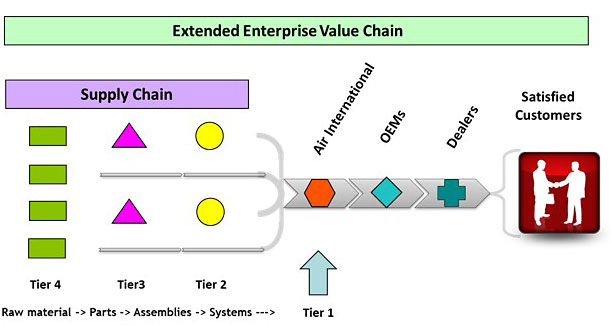 General Principles
Our buyers represent Air International's collective interests and objectives to suppliers; and represent suppliers' interests to Air International's internal functions.
Our employees view suppliers as a value-added extension of Air International departments and functions.
Suppliers consider Air International a preferred customer.
Integrity
Air International lives up to the "spirit" of its contracts.
Air International's departments establish a "firm, but fair" interface reputation at all levels.
Trust
Air International aligns its business objectives among internal functions and departments.
Investments made at Air International's request will be fully utilized.
Payments will be made and received in accordance with contract T&Cs.
Premium costs incurred at Air International's request will be acknowledged and reimbursed.
Accurate information will be communicated in a timely manner by all Air International functions.
Air International respects and protects suppliers' intellectual property.
Long Term vs. Short Term Perspective
Air International acknowledges and shares piece price and supply chain savings resulting from supplier suggestions.
Air International provides adequate support for suppliers; buyers remove internal barriers.
Air International acknowledges suppliers' need to make a reasonable profit.